O U R M I S S I O N & V I S I O N
The mission of West Bauxite MBC is to Preach the Word and Reach the World for Christ.
It is our vision to impact the people of Bauxite, AR with the message and power of the Gospel of Jesus Christ. We have
experienced
the life-changing encounter with
Christ,
and we seek to make Him known to our community so they can make Him known to the world.
Our Weekly Worship and Activities Schedule
Morning Worship 10:45 a.m.
Evening Worship 6:00 p.m.
AWANA Club Rotations 6:20 p.m. – 8:00 p.m.
Adult
Bible Study 7:00 p.m.
Our Sunday School offers classes for all ages!
AWANA Clubs for ages PreK-Teens
COME JOIN US THIS SUNDAY!
For those who are not able to physically come to church but want to continue giving to support the needs of the church, please mail your tithes and offerings to:
West Bauxite Missionary Baptist Church
O U R F A C I L I T I E S
5701 Bauxite Hwy 183
Bauxite, AR 72011
We are conveniently located…
10 minutes

from

Benton High School
8 minutes

from

Bryant High School
4 minutes

from

Bauxite High School
We offer the following amenities:
O U R S T A F F
Gary Self

,

PASTOR

Brother Gary is a veterinarian and didn't answer God's call to the ministry until he was 38. Since then, he has pastored churches in Arkansas and Mississippi. He has Bachelor of Theology and Master of Bible Languages degrees. Brother Gary loves to explain God's Word in an understandable manner, but also in a way that challenges people to think about how their lives measure up to the principles of God's Word. He began his role as pastor of West Bauxite MBC January 2023. He is married to Dorothy and has one son living and 8 grandchildren.
"How then shall they call on him in whom they have not believed? and how shall they believe in him of whom they have not heard? and how shall they hear without a preacher?" -Romans 10:14
Toby Wilson

, ASSOCIATE/YOUTH PASTOR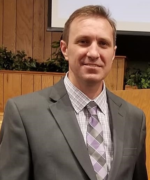 Toby serves as both Associate and Youth Pastor of West Bauxite. As Youth Pastor, he provides spiritual guidance to the youth. He is a faithful teacher of the teens and makes their Biblical education a priority
as he leads them in their spiritual walks.
He holds a
Bachelor
of Science and Education
Degree from Henderson State University. He married his wife Bridget in 2001 and together they have two children, Isaac and Bella.
He
came to West Bauxite as a Youth Director in 2005 and was later ordained as Assocaite/Youth Pastor in 2019.
He also
holds a Master of Divinity from
Central Arkansas Baptist Bible Institute
where we
serves
as an instructor.
"But speaking the truth in love, may grow up into him all things, which is the head, even Christ:" -Ephesians 4:15
Kristy Hall,

MUSIC & CHOIR DIRECTOR
The Bible has a lot to say about music, and Kristy's role is to lead the church's worship of God in the singing of songs, praises, and hymns. Kristy also directs our Adult and Children's Choir and encourages each member to use their talents. She has been a faithful music leader at WB since 2016 and an encouragement to our church since before then. Kristy holds a degree in Music Education.
"Speaking to yourselves in psalms and hymns and spiritual songs, singing and making melody in your hearts to the Lord:" -Ephesians 5:19
————————————————————————————————————————
We associate with the American Baptist Association.

(abaptist.org)